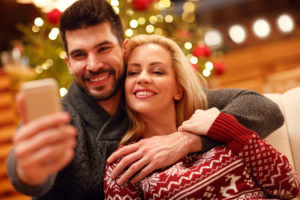 While the holidays sure have changed since your pre-children days, they are still filled with excitement and joy. Though they tend to be a little more stressful. Join us in recapping the difference of Christmas before and after children.
The Tree: In the pre-children days, your Christmas tree was its own work of art. The ornaments were all tastfully selected and hung on just the perfect branch. Now, you are doing well if the tree is still standing. Between the "baby's first Christmas" and the hand made masterpieces, your tree looks like it belongs in a preschool rather than on social media. Not to mention, the upper half of the tree is the only thing decorated since ornaments are a magnet for curious fingers.
Shopping: Let's take a moment to reflect on the days of shopping before children… they were truly magical. You had the freedom to stop at each store, carefully selecting the perfect gift. Now, you are either glutting for punishment by taking the children along for the adventure or trying to fit trips in between preschool drop offs and mounting chores. No one has an appreciation for online shopping quite like moms.
Baking: Oh what fun it was to bake for the holidays! You'd spend an hour on Pinterest searching for the perfect recipe, then after shopping for the ingredients, half of the day would be spent in the kitchen honing your Martha Stewart abilities. Between parties and wrapping and the growing pile of laundry, there is hardly time to even think about baking. Besides, baking with children is more work than fun. Flour and sprinkles cover the counter and all the cookies are topped with 3 inches of sprinkles.
Wrapping: Forget bags and store-bought bows, wrapping presents used to be one of your favorite holiday activities. These days, you're lucky if your presents are even under the tree. Since gift wrapping falls between bedtime and the 7 times your children wake up during the night, you're doing well to even buy Christmas paper.
Parties: Holiday parties used to be what you lived for during the Christmas season. They were a time to don your festive attire and catch up with old friends. Fast forward to parties as a parent. You pull the first thing out of the closet that isn't stained to wear, you dress and wrangle the zoo into the car, arrive an hour late and leave an hour early. It's truly a magical time.
Snow: Snow days were a special treat in your pre-children days. You enjoyed an unexpected afternoon off, curled up on the couch as you caught up on your favorite shows. As a parent, snow days are your worst nightmare. Now, you fight the crowded roads to arrive in time for early dismissal. You spend 20 minutes zipping coats and tying boots then tear apart the closet in search of hats and gloves. All that work and they are outside less than 5 minutes.
Christmas Morning: Christmas morning was a day to sleep in and enjoy a quite cup of coffee. Take a moment of silence to reflect on that… because now you manage to clock an hour of sleep before your bedroom is filled with excited children not so patiently waiting to see what Santa brought.
Photos: In the pre-kid days, your photos were perfectly staged in front of the tree, there wasn't a wrinkle on your shirt or a hair out of place. These days, you are doing well to take a photo that includes more than the just the children. Between crying children and always running late, photos are often just a dream.
We hope you and your family enjoy a wonderful holiday season. Merry Christmas from your friends at NiteOwl Pediatrics!