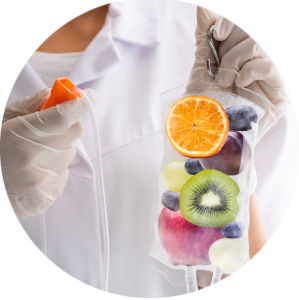 NiteOwl's Mobile IV Infusion Service

With our mobile IV therapy, we can come to your events to help you and your guests repair, recover, and rehydrate through convenient access to vitamin-infused IV blends whenever and wherever you need them. Our team of experienced, professional, and registered nurses administers these IVs, ensuring a high standard of care.
What is IV Infusion Therapy?
IV infusion therapy involves the intravenous administration of a customized blend of vitamins, minerals, antioxidants, and fluids directly into the bloodstream. This method allows for rapid and efficient absorption, bypassing the digestive system's limitations.
NiteOwl Mobile IV Bag Offerings
The infusion process typically takes approximately 30 minutes to complete. Pricing starts at $125 per bag for up to five IV treatments. For six or more treatments, pricing starts at $100 per bag. We require a 4-bag minimum for our mobile IV service.
Our IV bag options at NiteOwl include:

Get Up and Go (Energy)
1. Olympia Vita Complex
2. Amino Blend

Immunity (Immune Defense)
1. Ascorbic Acid
2. Olympia Vita Complex
3. Zinc Sulfate

Inner Beauty (Fortify Skin, Hair, and Nails)
1. Ascorbic Acid
2. Olympia Vita Complex
3. Biotin
A separate glutathione drop may enhance the results.

Quench (Hydrate)
1. Ascorbic Acid
2. Olympia Vita Complex
3. Olympia Mineral Blend

Reboot (Hangover Formula)
1. Ondansetron
2. Olympia Vita Complex
3. Olympia Mineral Blend

Recovery & Performance (Performance Recovery)
1. Ascorbic Acid
2. Olympia Vita Complex
3. Amino Blend
4. Olympia Mineral Blend

What Events Would Benefit Most from This Service?
Weddings and Bachelorette Parties - All the fun associated with celebrating the bride often involves intense physical exertion and can leave participants feeling depleted. IV infusion therapy replenishes energy levels, reduces post-event fatigue, and promotes faster recovery.
Sporting Events and Competitions - Participants at sporting events often push their bodies to the limit, leading to dehydration, muscle fatigue, and reduced performance. IV infusion therapy can play a pivotal role in restoring optimal hydration levels, replenishing electrolytes, and providing a rapid infusion of nutrients to support muscle recovery.
Music Festivals and Concerts - Long hours, crowded environments, and loud music can leave anyone feeling drained and fatigued. Mobile IV infusion offers a revitalizing solution, helping individuals recover quickly and combat exhaustion.
Corporate Conferences and Trade Shows - Attendees have to navigate long days filled with back-to-back meetings, networking, and information overload. IV infusion therapy can provide a much-needed energy boost, mental clarity, and immune system support to combat exhaustion.
Wellness Retreats and Yoga Workshops - These events are designed to promote relaxation, rejuvenation, and self-care. Participants can support the body's natural detoxification process with mobile IV services, facilitating a deeper sense of relaxation and well-being.
IV infusion therapy has transcended its traditional medical application and found a new niche in event wellness. By harnessing the power of IV infusion therapy, event organizers and participants can ensure a memorable experience that prioritizes optimal health, recovery, and rehydration. Call us at 423-432-8406 to schedule mobile IV services for your event!