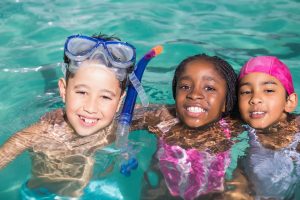 Summer is a season filled with outdoor adventure and sunshine. Along with the fun comes an increased risk for bug bites, sunburn, dehydration and water injury. Don't spend your summer in the doctor's office. Follow these summer safety tips.
Water: Water activities are arguably one of the best parts of the dog days of summer. However, drowning is the leading cause of death in children ages 1 to 4. To prevent water related injury, limit cell phone usage and other distractions. Children should never swim or be left unattended by a pool.
Sun: Did you know that sunlight exposure during childhood and adolescence can increase the risk of melanoma later in life? That is why it is so important to generously apply sunscreen with an SPF of 15 or higher, 20 minutes prior to sun exposure. Sunscreen should be reapplied every 2 hours, and after swimming or sweating.
Clothing and hats can be an excellent barrier against ultraviolet rays. Be sure to select options that protect the neck, elbows and knees. Infants under the age of six months should be kept out of direct sunlight and should also wear hats with wide brims.
When planning outdoor activities, try to schedule them outside of peak sun hours, 10am- 4pm. When outside, be sure to drink plenty of water and seek shade when necessary. However, it is important to note that shade does not protect against UVR and it is still possible to get a sunburn while in the shade.
Bugs: Mosquitoes and other critters are synonymous with summer nights. To protect against itchy bug bites, spray exposed skin with bug repellent. After spending a day exploring the great outdoors, be sure to protect against ticks. Check to be certain none have attached themselves to the skin. After coming inside, it is important to shower within 2 hours, wash dirty clothing and dry on high heat to kill any remaining ticks.
Hydration: Drinking plenty of fluids during warm summer days can help prevent against dehydration. Children should drink 12 ounces of fluids 30 minutes prior to activities and take fluid breaks every 20 minutes while playing. Be sure to look out for thirst, dry mouth, headache, muscle cramping, irritability, fatigue, weakness, dizziness or decreased performance which can all be signs of dehydration.
Injury: When playing outside it is important to wear the proper safety equipment. Consider adopting the no helmet, no wheels rule to prevent against bicycle or skateboarding injuries.
Hot Cars: Never leave a child in the car unattended for even a minute. Temperatures can be deceiving and fatalities can occur with temperatures as low as the mid 50's since vehicles heat up so quickly. In only 10 minutes, a car can heat up by 19 degrees. Children are at an increased risk for heat stroke and other related illness because their bodies heat up at rates 3 to 5 times higher than adults.